Women are spending the equivalent of almost an entire month of the year worrying - and it is impact their health. A study found women spend an average of almost two hours a day feeling worried or stressed, with two thirds of this time spent feeling anxious about other people rather than themselves.
In comparison, men spend just an hour-and-a-half worrying each day, with almost one in 10 admitting none of that time is spent thinking of others.
**FYI: Almost two thirds of women have periods where they feel constantly worried, with what's going on in the world at the moment.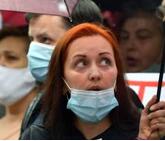 photo credit: Getty Images